New tool alert 🎉 The Smart Currency Converter is a game-changer for those who are selling to customers around the world!
How often do you purchase a product online that's in a currency different than yours? Do you ever…?
If you're selling to customers across the world and you're only allowing them to purchase in your currency then you're losing sales!
According to Shopify, "92% of shoppers prefer to make purchases on sites that price in their local currency". That is a hard pill to swallow if you've been selling internationally and have been only offering your local currency.
Another insane quote from Shopify says "33% are likely to abandon a purchase if pricing is in U.S. dollars only". That means that 1 out of every 3 people that are sold on your product and ready to buy are leaving without purchasing!
Whether you realize it or not, you're losing out on sales in a big way.
ClickFunnels currently doesn't offer a way to add multiple currencies to your products, but even if they did you would likely only add the few main currencies, surely not 100+ different ones.
Here at Funnelish, we saw this issue because we dealt with it firsthand and became fed up with the idea of losing sales because of something seemingly so small!
We created the Smart Currency Converter app to solve this issue and offer two amazing solutions!
1. Smart Currency Converter will automatically detect your customer's currency based on their location and/or their billing & shipping address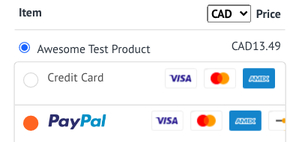 2. OR your customer can choose any currency of their choice by selecting from the dropdown menu displayed above the product price if they want to pay in currency besides their local one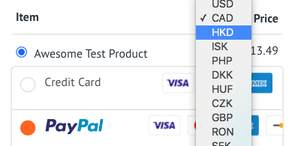 The app will automatically convert your product price to the appropriate currency using real-time conversion rates.
The Smart Currency Converter app currently offers 100+ currencies and is set up with a few simple steps and no overhead!
As a member of Funnelish, you can enable this app simply by heading to the global App section on your Funnelish account, and turning on "Smart Currency Converter".
Next, head to the funnel you want to enable this on (or do this for all your funnels if you want it everywhere), and go inside your funnel App section and turn it on there. That's it!
For Funnelish users, visit our tutorial for the Smart Currency Converter for more detailed instructions and click here to access our forums for any other questions you need to be answered.
If you're not yet a member of our Facebook group, you can join here where we discuss all things funnel-ish.
FYI — Even though Smart Currency Converter changes the currency your customers see, it won't affect the currency that your payment option (credit card, PayPal, etc.) charges them.
So start crushing your international sales and add the Smart Currency Converter app to all of your ClickFunnels pages today!!
Taylor