There's no doubt that practically every single business was affected by the ongoing COVID-19 pandemic – online or not.
Some industries saw sales come to a standstill, with over 16 big-brand companies filing for bankruptcy since the start of the pandemic (RIP J.C. Penney, J. Crew, and more).
Some industries, on the other hand, saw sales absolutely skyrocket.
What would you give to be in the hand sanitizer, face mask, or toilet paper business 6 months ago…?
The e-commerce space is interesting because, with millions and millions of people stuck at home, BigCommerce reports that e-commerce sales are up by 25%.
DigitalCommerce 360 reporting similar numbers at 30.1% in the first half of 2020, as shown in the chart below.
Don't be fooled though – this growth is not across the board.
In this article, you'll learn how to find your e-commerce store on the positive side of the pandemic's effects.
Your revenue does not need to dwindle because of the pandemic. Let's get what we can out of a bad situation!
Table of Contents:
E-commerce is Growing During COVID-19
There's no doubt that commerce has made a huge shift to the online space because of this pandemic.
With most retail stores closing and public fear of going to the ones still open, the digital space has provided a safe way for consumers to make their purchases.
In the graph above provided by Digital Commerce 360, you can compare the sales growth during the peak of the pandemic compared to the same time in 2019.
The graph shows data from over one TRILLION anonymous retail site visit!
The month of May alone saw a 78% increase in online sales from the previous year!!
Even with the percentage lowering from 76% in June to 55% in July… that's STILL 55% growth in July 2020 from July 2019.
No matter how you look at it, these stats are screaming in our faces that e-commerce has seen major growth because of COVID-19.
And even with stores opening back up, the public perception has made the permanent switch to relying much more heavily on online stores.
A Tech Crunch article tells us that "the pandemic has accelerated the shift away from physical stores to digital shopping by roughly five years."
We cannot ignore the blatant signs that now is the opportunity for e-commerce stores.
As an e-commerce store owner, what are you telling yourself to try and convince yourself that it's okay that your store is tanking?
You either make the shifts that I'm going to talk to you about in this article, or you blame yourself.
We're in the business of online growth in this blog, so let's freaking grow!!
Know What Niches Are Performing Well NOW
It may seem obvious that certain industries are seeing massive growth because of the pandemic (masks, hand sanitizer, etc.), but there are definitely plenty of industries that don't directly fall under the COVID-19 preparedness category.
This graph with data from Common Thread Collective shows us the percentage increases or decreases of various industries due to COVID-19.
We see obvious increases in the medical essentials and cleaning product niches, with household goods increasing by 210% and medical increasing by a whopping 433.99%!
Now an important thing to take into consideration is that medical and cleaning supplies are NOT the only industries that are seeing growth right now.
You need to get creative in your thinking and get into the head of an average consumer.
What are they dealing with right now?
Stuck at home, maybe with kids
Trying to protect themselves from getting sick
Working from home
Bored and restless
So what are they doing?
Trying to entertain their children
Adding more healthy habits to their lives
Trying to adapt to new routines
Looking for fun activities
Now let's break it down even further, what are they buying to satisfy those new desires?
Below we'll go into the top 8 niches you should make the switch to based on getting in the mind of consumers coupled with what the numbers tell us.
For easy reference, here's the graph again, but focused on the industries we're going into:
1. Baby Products: 201.42%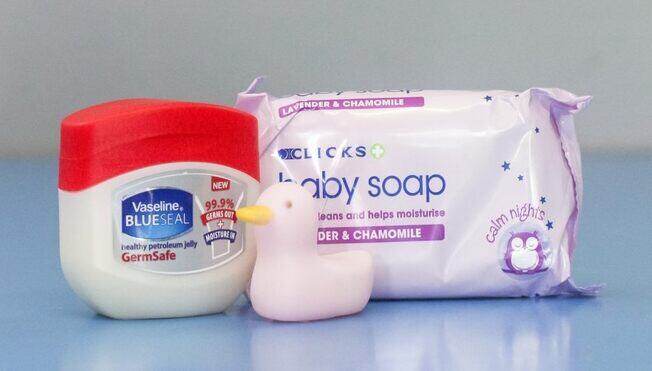 We see huge growth in this industry with a 201% increase in sales.
The most obvious reason for this is because parents want to make sure they're prepared for the worst.
Especially at the start of the pandemic, let's say around March and April, we had no idea what was to come. As a parent with a young child, that uncertainty can be frightening.
Because of this we saw companies selling out of diapers, baby wipes, and other essential baby products.
Having an e-commerce store with a strong supply of baby products, coupled with a good way to promote your store to the world (see our traffic section), will likely lead to amazing profits.
2. Toys & Games: 89.25%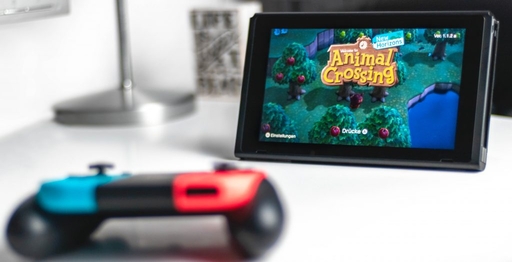 We are, for the most part, social beings. So to lock us in our homes for months with no potential end in sight, we need to be entertained.
Now while lockdowns are for the most part over, the social stigma of group gatherings or public places is going to be negative for months, maybe years to come.
So what consumers buy?
Board games
Children's toys
Game consoles (remember the Nintendo Switch craze?)
Video games
Puzzles
The list is endless!
If you provide a product with a safe way for people to have fun at home, they're going to buy it.
3. Health & Wellness: 85.15%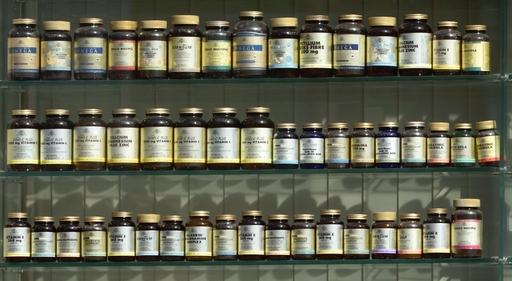 Now when we're talking about health and wellness, we aren't even referring to COVID-19 related products.
In this niche, your e-commerce store can sell a million different things to help people stay healthier in general. While your products may not directly provide any COVID-19 protection, this time period has made people more aware of their overall desire for a healthy life.
What can you sell in this niche?
Vitamins and supplements
Water filters
Essential oils
Nutrition guides or programs
Yoga and fitness equipment (also fits into sports & fitness niche)
Health foods
If you're selling any health related product, do make sure to have the proper facts, disclaimers, and ingredients.
4. Work from home: 84.5%
Whether you hate it or love it, working from home is the new reality for soo many people.
In all honestly, I hate it!! People may complain about having to go to the same office every single day, but when that's taken away people are finding themselves stuck in between a rock and a hard place…
Consumers are likely finding it harder to stay focused, professional, and comfortable all in one.
So what are they buying?
Computers and laptops
Home office decor
Computer chairs
Webcams
Printers
More comfortable, yet professional, clothes
Think about the new shift that they've made and what they'll want to have near them to make their home feel more like an office.
Your e-commerce store should speak to their issues and express the importance of them.
5. Food & Beverage: 66.5%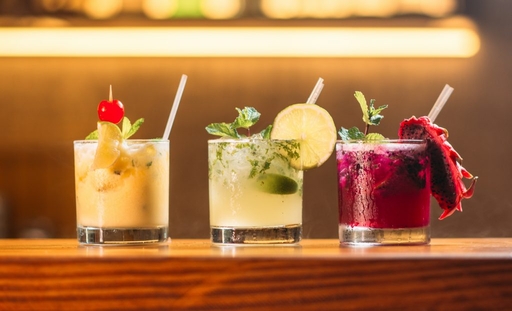 In my opinion, this category has a LOT of potential for creative e-commerce store owners.
With people eating and going out significantly less, if at all, they still want to enjoy good food and drinks.
Everyone is cooking at home more, and they're trying out new recipes for fun. Same goes for drinking.
This category will closely align with Household Goods because you can sell not only actual food and drinks, but tools to go with it.
Here's a ton of ideas:
Food subscription services
Ingredients and drink mixes
Cookbooks
Kitchen tools
Food & drink serving utensils
Creative drink accessories (cups, shakers, ice cube trays, etc.)
You can really get creative with this industry, people love interesting things that make them feel like they're elevating their social status – even if it's at home!
6. Household Goods: 66.47%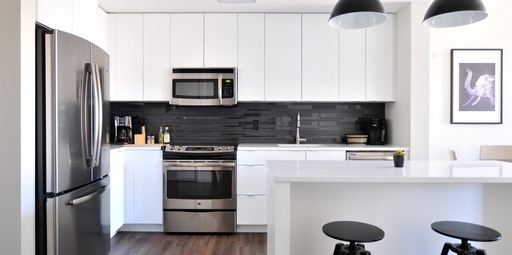 As I mentioned in the previous section, Food & Beverage and Household Goods can tie closely together.
Having an e-commerce store that's niched to household goods is the perfect combination of niched down, interesting products, and still wide enough to have a ton of different products!
This niche attracts a LOT of people right now, but still has a specific purpose in it's range of products.
Let's list out some potential products that people are interested in right now:
Cooking utensils
Cocktail mixing tools (cups, ice cube trays, bartending tools, etc.)
Home bar or coffee machines
Cookbooks
Gourmet ingredients
Home cleaning tools
Home decor (especially with the holidays coming)
I personally love this industry, and with a 66% increase it's a good one to hop into right now!
7. Beauty & Care: 53.39%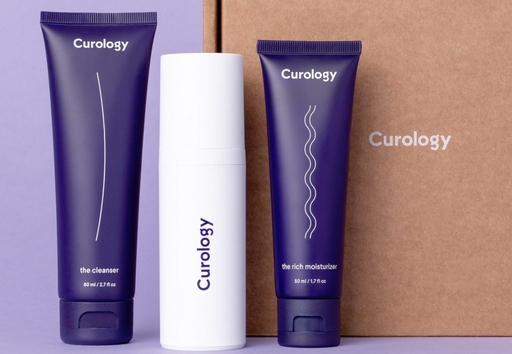 With people bored at home, they're starting to care more about their skin!!
We've already seen e-commerce skincare stores growing in the past few years, and now the pandemic has brought even more growth.
People want a product they can feel good about, and that will help them feel better about themselves while stuck at home.
If you have a good tested and reliable product, build a store around it! You can develop complementary products to go with it.
What should you be selling right now in this industry?
Cosmetics
Skincare
Beauty tools (blenders, brushes, cleaners, etc.)
Skincare tools (rollers, masks, dermarollers, etc.)
8. Sports & Fitness: 31.54%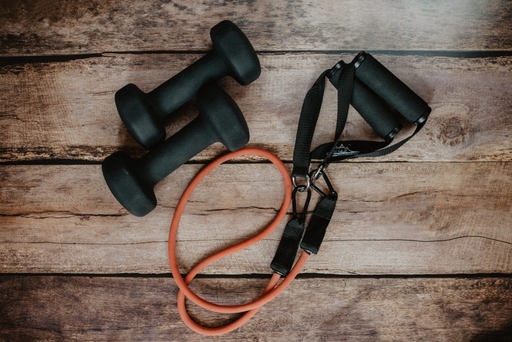 It may be a given that since gyms around the world closed, people started to look at ways to exercise at home.
The pandemic forced the people who already worked out to find new ways, and the people who didn't workout became more interested in exercise due to either wanting to be healthy, or just plain boredom.
There was even a small period of time where it was almost impossible to find a single pair of dumbbells because of the increased demand!
Fitness e-commerce stores have always been a great niche store, but now more than ever is the chance to carve out a lasting brand with the right fitness supplies!
What can you sell?
Yoga mats
Dumbbells
Resistance bands
Shaker bottles
Weighted ropes or medicine balls
Fitness clothes
Protein powder and supplements
This industry has blown up over the past few years, and the pandemic has shown that the demand is there more than ever!
Where Are Consumers Hanging Out Online?
When trying to grow and scale an e-commerce store, it's important to know where consumers are hanging out online.
How are you going to reach them? How will you communicate with them?
"It's no surprise that 59% of consumers started spending more time on social platforms to connect with family and friends."
With millions of people becoming more active on social media, we know where our traffic should be coming from.
Facebook ads have always been a main avenue of traffic for e-commerce stores, and now is no exception.
A Common Thread Collective Article reports a 27.66% Return On Ad Spend from 43 accounts actively managed by Common Thread Collective at a ~$92M annual spend rate – just for the week of Aug 23-29th!
Thanks to a ClickZ article, we can see in their chart below that consumers for the most part have been viewing ads in a more positive light and are more open to engaging with them. That's big news for us.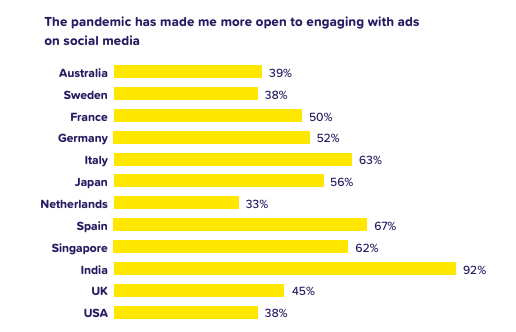 So it's clear that we SHOULD be advertising on social platforms like Facebook, but how?
How do users want to be advertised to?
According to the ClickZ article's poll on 5,000 consumers, they want to see content, content, content!!!
The graph below shows that consumers are more open to receiving both Photo Carousel and Video ads.
Take some time to develop high-quality photos and videos that showcase your product in the best way possible, it'll pay off.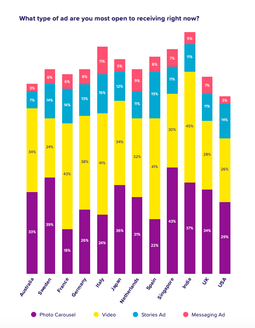 You need to take these things into consideration when driving traffic to your e-commerce store. This is how you can make it out of the pandemic with at least a steady stream of online sales.
Let's do what we can!
References