Funnels, landing pages, and sales funnels are terms that are used so often in the digital eCommerce space. Like all. the. time.
You typically hear these words spew from the mouths of digital marketers like it's their religion. The truth is… these things are all super important when it comes to selling ANY digital or physical products online!!
We've pinpointed 12 of the biggest reasons that make funnels a crucial part of increasing the conversion rates for your eCommerce products, AKA, selling more products:
So what do I mean when I say funnel?
A funnel is basically the virtual salesman of your eCommerce store. I've found that to be the perfect metaphor to explain what funnels are! These pages are any page that you're taken to that has one main purpose, to make sales.
Funnels can also be used for you to collect leads through email opt-ins, but more often than not it's designed to make you purchase one specific product or service. Marketers often use the phrase landing page interchangeably here.
When the purpose (or main page) of the funnel is designed to make you make a purchase, that's referred to as a sales page. When the page is designed to make you enter info as a lead, that's typically referred to as a squeeze page or an opt-in page.
Sales funnels are used when referring to the whole online sales process. This can include your traffic source, an opt-in page, your sales page, follow-up emails or texts, Facebook messages, etc.
It's basically the whole picture, and what a lot of marketers refer to as the back-end (basically everything that happens after a lead enters through clicking a link).

It's definitely important to note that both the terms "funnel" and "sales funnel" are oftentimes used interchangeably by marketers and ecommerce store owners.
So why do you need to be using funnels for your eCommerce products?
Whether or not you already have a beautiful online store on Shopify, WooCommerce, BigCommerce, or any of the countless platforms out there, you're missing out on some huge conversion rate opportunities if you're not using funnels to promote your products.
Below I'm going to dish out 12 reasons that will either convince you to start using funnels, or you just weren't paying attention!
1. To double down on a successful product or group of products
Let's say you have one main product that's been crushing it in your Shopify store. Creating a sales page for it will direct 100% of the traffic to that product and convince them even MORE on why they need to purchase.
You can use a funnel to launch a new product, build hype around it, and make it a new bestseller.
Use funnels when offering limited-time offers like Black Friday deals for a certain product.
2. To increase average order value (AOV) using upsells and down sells for your products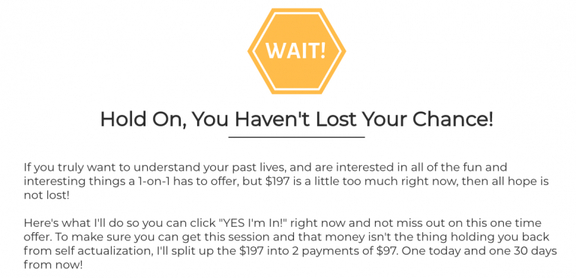 Due to high competition in the ads space (Facebook Ads, Google, etc.) it has become so hard to break-even, not to mention making any profits at all.
A funnel allows you to squeeze more profits from your customer while they are on your website without having to pay Facebook again to re-acquire them… According to this article upsells are 68% more affordable than acquiring a new customer.
Upsells and downsells (often referred to as OTOs, or one-time offers) are used to increase your order value by encouraging customers to purchase something in addition to what they just bought.
Using funnels upsells and downsells usually present as sales pages right after a customer purchases, before sending them to an order confirmation page.
Upselling increases revenue by 10-30% on average (sumo.com)
70-95% of revenue comes from upsells and renewals on average (for companies who offer them). (sumo.com)
Upsells (a more expensive product) and downsells (a cheaper product) are typically products that are similar or complementary to the first product the customer purchased.
They can purchase these OTOs by simply clicking a button, without the need to re-enter their payment info! It becomes so much easier for them to say yes without friction.
3. Stand out from the millions (yes – millions) of BS ecommerce stores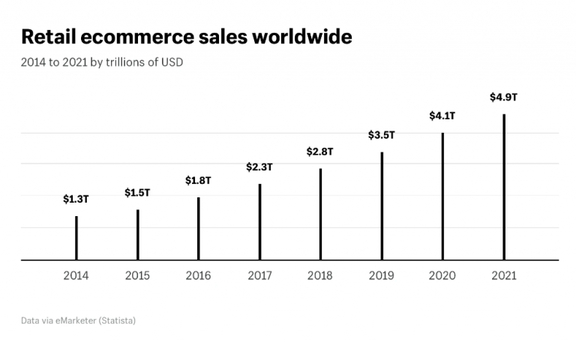 It's estimated that there are anywhere from 12-24 MILLION eCommerce stores out there… Seriously! Shopify alone has over 1 million stores.
So many of the stores out there (probably at least half) are based around the same model of selling mass-produced products that take weeks, or months, to deliver. Not to mention all of the stores that are just plain scamming consumers.
It's safe to say that consumers are wary of online shopping. They want to trust that you care about them and are going to deliver on your promises.
Using a beautifully designed funnel helps build trust from your customers. They're seeing the effort put into a site created specifically for the product – not a simple storefront that they see everywhere else.
You can build trust using a funnel because the whole funnel from top to bottom is built around your brand, your logo, your colors, and more.
4. Grow your list of interested potential customers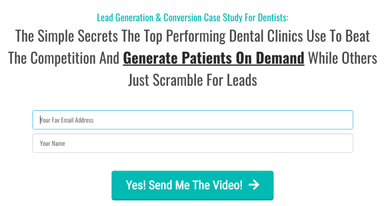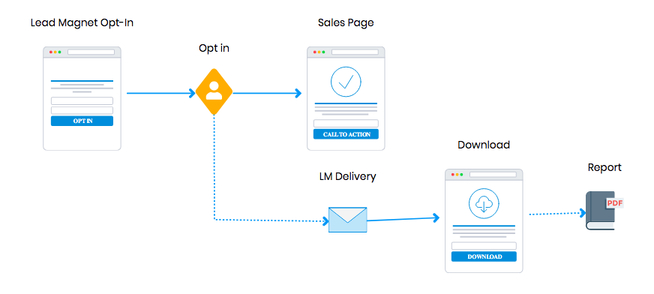 Funnels are a really awesome way to grow your lists. You can easily capture emails, names, phone numbers, and more to gather large lists of potential customers to market to for free!
If you send traffic to an opt-in page before your sales page, you will be able to follow up with them if they don't end up purchasing.
Most funnel builders will even capture their email as soon as they enter it in the checkout process so you can track them as abandoned carts!
You'll be able to send your lists to any of your funnels any time you want. We love free traffic!
5. It leads customers down a direct path with only one goal – purchase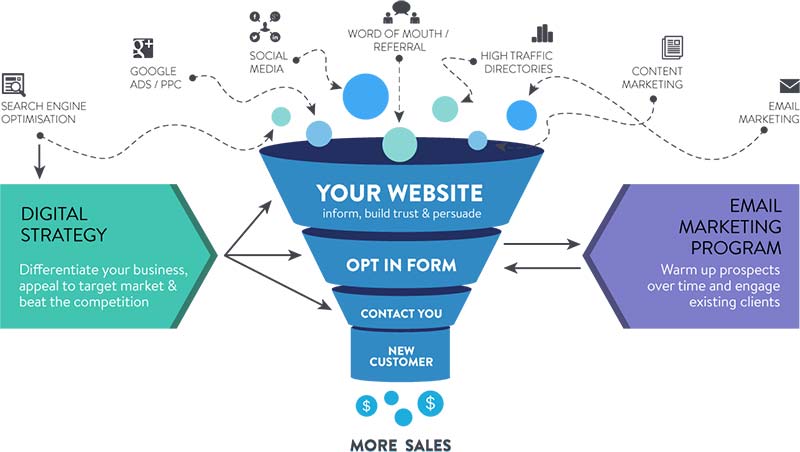 Potential customers can easily suffer from paralysis by overanalysis, meaning there are too many options for them to decide from, so they end up choosing none.
Putting multiple offers on your landing page can decrease conversions by up to 266% (source here).
If you want to sell a specific pair of shoes, and you're doing so inside your Shopify store, you can send a customer to the product page and they can decide that they want to see what else you have.
They venture to your other products and maybe see a few things they want, but now they're overwhelmed with options, and instead of picking the one you originally sent them to, they can't decide what they want and prefer to make no decision instead of potentially making the wrong one.
A funnel eliminates the options by giving them one main decision: do I want this product or not. Your only goal is to get them to say yes and every aspect of the funnel is designed to do that.
6. You can use it to convert ice cold traffic into paying customers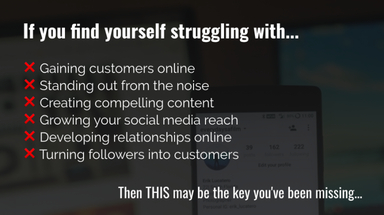 Cold traffic refers to people that don't know about you, your brand, and/or the product you're selling.
If someone is in this position (basically all of your direct response ad traffic) then sending them directly to a product page is likely way too far of a jump. They need to know, like, and trust you first.
Sending them to a funnel enables you to teach consumers everything they need to know about WHAT your product is and WHY they need to have it.
You can have them convince themselves that the product is right for them by asking them qualifying questions, and then presenting your product as the answer to their struggles!
7. You're in full control of the whole buyer experience
Funnels are so awesome because you can customize literally every single aspect of the page!
Platforms like Shopify give you different themes and some artistic ability, but you typically need coding knowledge to make any real changes to your store.
With funnels, you can…

Create countdown timers by the day, hour, even second!
Show bonuses they'll get with your product
Show social proof beyond just reviews
Customize the checkout experience
Add icons, background images, pricing tables, and literally anything you can think of!

You'll be able to handle objections, describe the product, answer questions, offer a guarantee, and have them checkout all-in-one!
8. Track and analyze your customer actions like never before

In the eCommerce space, it is SO important to track your results.
Now you can know exactly the take rate/conversion rate on each step of your funnel and the conversion rate of every single product on your funnel as well.
Funnels allow you to see where customers dropped off by tracking what pages they got to, where they entered their info, and if they started the checkout process.
You'll be able to have them instantly entered into abandoned cart sequences if they started to check out and then left
You can easily track all of these steps with your Facebook Pixel!
9. You don't need to add a million apps
In this section when I say a million, I'm being a LITTLE dramatic… but with some online store platforms (*cough cough* Shopify) you need to add additional apps for so many features that increase conversion rates!
Funnels are built to help you increase conversion rates, so the features that help you to do that are usually always included and ready to launch!
Countdown timers, videos, pop-ups, order bumps, surveys, icons, progress bars, and more are installed at the click of a button, no need to visit just another app store.
10. You can use funnels to do things besides selling products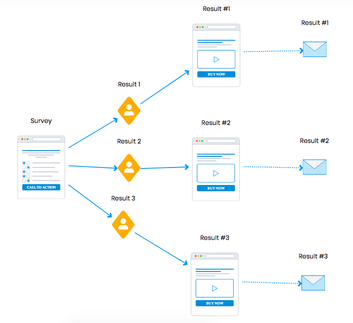 Funnels can be used in so many ways besides just selling if you have a good funnel builder.
You can create surveys to send potential customers to see what products they want…
Or you can send your past customers to a survey to ask how satisfied they were with a product they already purchased!
Like I talked about above, you can use opt-in pages to simply collect emails without even selling anything.
If you're selling digital goods or services you can create membership areas to package your product as a virtual course (and then sell it with a funnel too!)
You can use funnels for basically anything you set your mind to – get creative!
11. Funnels work great with paid traffic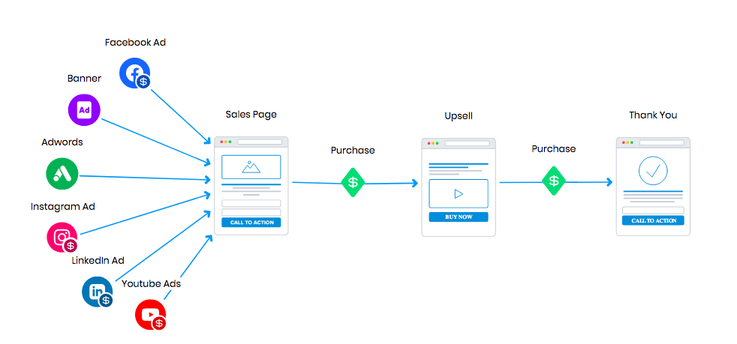 If you want to make sales for your eCommerce store you're probably using paid traffic unless you have a HUGE organic following, which in that case, I'm jealous of!
If you're running Facebook and Instagram ads people are most like not ready to buy because they aren't actively searching for your product.
With an informative funnel, you can move them further down the buying process without needing to make as many touchpoints.
Funnels work great with Google ads because while they may be in the market for a product that you offer, you're convincing them why they need to buy YOURS, not just any product.
12. It takes less work for the customer to checkout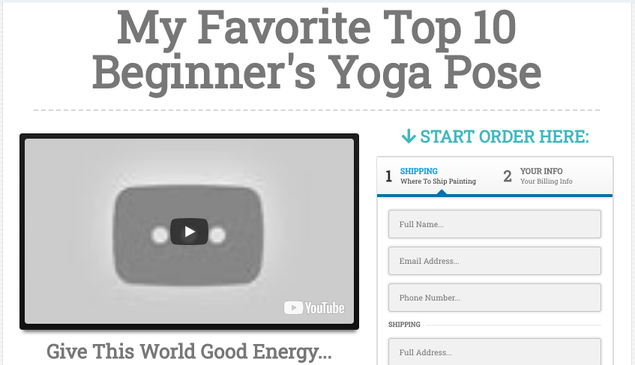 Selling online is no different than selling in person, people want it to be easy to purchase. I mean come on – they're already giving you their money, how much more work should they have to put in?
Companies that create an easy buying process are 62% more likely to win a high-quality sale (source here).
Most funnel builders will have a more simple checkout process than an online store, leading to higher conversion rates.
In Shopify stores users typically go from:
Product Page -> Cart -> Checkout -> Purchase
With a funnel, there is no cart and your checkout area is usually either on the first page of the funnel or only one click away.
When using funnels your checkout process can look like this:
Funnel -> Purchase
Fewer clicks for the customer means less resistance and a less likely chance that they'll change their mind!
Do you see what I'm getting at here?
When you add funnels to your eCommerce marketing strategy your basically ensuring more sales on your digital or physical product.
When you use funnels to your advantage like the ways we discussed above, your conversion rate will end up even higher.
Once you set up a sales funnel for your eCommerce store you'll be getting sales on autopilot in the most optimized way possible!
Use popular tools like ClickFunnels, LeadPages, or any other eCommerce funnel builder or CRM that has a wide variety of features. Follow tried and true formats and get ideas from other eCommerce stores selling products through funnels.
My final tips to leave you off with…
Test, test, test!
Always test different aspects inside your sales funnel and your funnel pages. Test different headlines, structures, and content.
You should even be testing different products!
Make sure your funnel is integrated with your online store so your sales are automatically fulfilled.
Make sure to correctly install the Facebook pixel and relevant codes inside each page. Use the Pixel Helper Chrome Extension to test that it's working correctly.
ALWAYS think from the customer's perspective and what they need to see to make a purchase decision.
Have fun! Funnels are such an awesome way to express your creativity!
Resources & Further Reading on Funnels:
Check out more stats on upsells for your eCommerce store here.
For an amazing article with sales funnel statistics read here 37+ Sales Funnel Statistics to Know In 2020.
Read more about Global Ecommerce Statistics and Trends.