It's pretty much safe to assume that by 2020 everyone has a Google account and utilizes it for either their email, calendar, documents, or one of the million other free tools they offer!
For us as ecommerce store owners or digital marketers, we squeeze out every free resource Google has to offer to make our stores run more efficiently, because why not?
Using Google Sheets is a great way for ecommerce store owners to keep track of purchases and record leads.
Automating the process from customer to a Google Sheet is usually done using tools like Zapier.
Zapier has it's disadvantages though. For one, it's definitely more on the technical side and is sometimes difficult to set up. The free plan doesn't include integrations like Shopify, and you can only set up 5 limited zaps before needing to upgrade to a paid plan!
Here at Funnelish we created a solution to that by directly integrating with Google Sheets!
You can now set up automations right from your Funnelish dashboard and seamlessly update your Google Sheets with each purchase, refund, subscription, or cancellation!
Section 1: Connecting The Google Sheets Integration
To integrate Google Sheets with your Funnelish and ClickFunnels account first visit the Integrations section of your Funnelish account (top right corner).

Click connect and you'll be prompted to sign in with your desired Google account. You'll be asked to give permissions to Funnelish, click allow. This lets us add to your Google Sheets.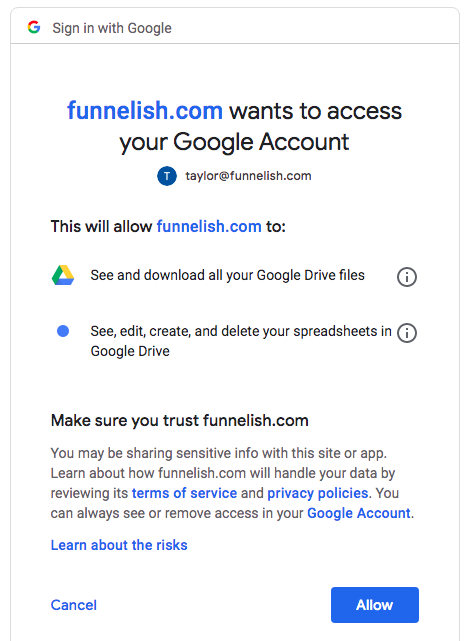 You'll be redirected back to your integrations page and from there you should be connected! Your screen should look like this:

Section 2: Using Google Sheets As An Automation
Now we'll actually set up an automation using the Google Sheets integration!
So you need to head to your funnels and click on your desired funnel. Go to the product you wish to connect it with and click on the product to edit it.
Scroll to the bottom and click "Create New Automation".
Select Google Sheets as your integration and choose which spreadsheet you want the data to be uploaded to – it will auto-load from the sheets you have in your Google account.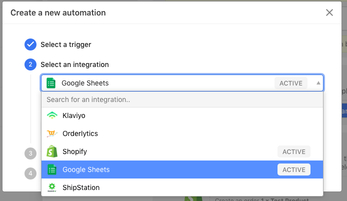 Now from here you can then either auto-match fields or manually map where you want each piece of information to go.
I recommend auto-matching because if you have a ton of columns it saves you even more time!
That's all you need to do to integrate your funnel with Google Sheets!
I hope you all find this integration to work wonders for your ecommerce store and hopefully it makes your life a little easier. 🙂
For our Knowledge Base Instructions, click here.
We'd love for you to join our awesome Funnelish Facebook group or take part in our Funnelish Community Forum.
Keep crushing it everyone!
Taylor