SUMMARY:
How to set up TikTok ads
TikTok ads types
TikTok video ads specs
TikTok ads Policies
How to track your TikTok campaign
TikTok ads pros and cons
TikTok ads for eCommerce
How to set up TikTok ads?
To set up TikTok ads, you'll first need to create a TikTok Ads Manager Account. Once that's done, you can log in to your TikTok Ads Manager to set-up your campaign details and ads.
Setting up a TikTok campaign
Once logged in to your Ads Manager, you need to hit the Campaign button to start your campaign.
You can then select your Campaign's objective. Let's break the options down and explain further;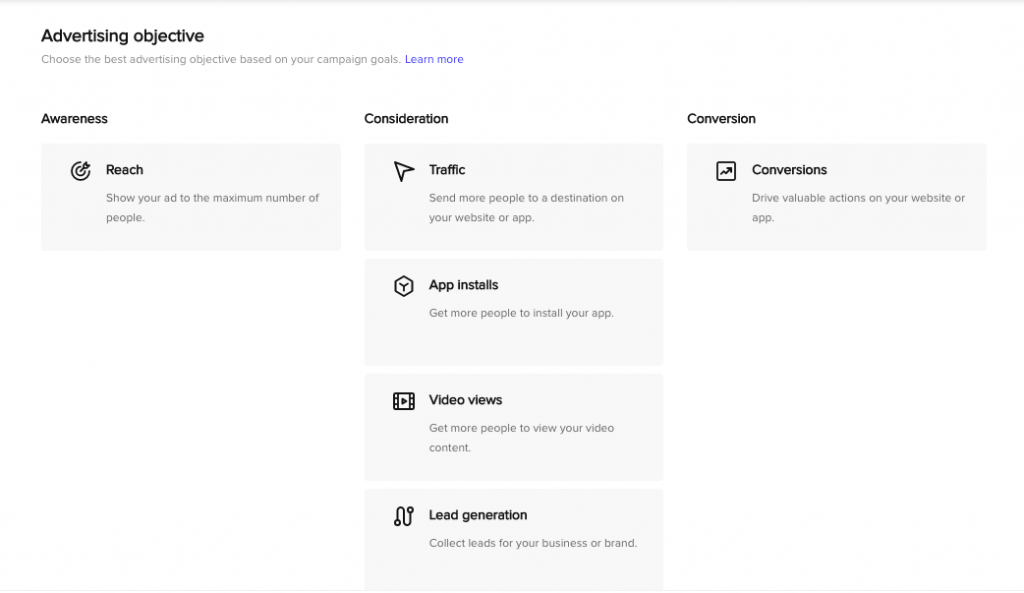 Awareness
Reach – This objective will show your ad\s to the maximum number of people, no matter their potential behaviour.
Consideration
Traffic – You can use this objective to send the viewers to a certain URL or app. (e.g.. your website, shop)
App install – Will lead the audience to download the specific app you're promoting
Video views – This objective will maximize the video ads plays (e.g. your video ad will be seen by a large audience)
Lead generation – Will generate leads for your business.
Conversion
Conversions – Will drive traffic to take considerable actions on your website/online shop (e.g. purchase, add to cart, etc).
TikTok ads cost
You can choose a No limit option for your ads, or set up a daily budget. The minimum amount for daily spending would be $50 for businesses.
If you're just a creator that wants to promote a video then you don't need to go through this whole set-up and can easily just boost your post.

TikTok ads campaign optimization
To optimize your TikTok campaign, you must set up your Placement, Creative Type, Audience and Bidding Strategy.
Placement: Refers to where you want your ad to be shown.
Creative Type: Similar to other advertising platforms, TikTok allows you to turn on automated creative optimization, which means that TikTok will combine your ad & text in different ways towards the best optimzation to maximize results.
Targeting: At this step, you can choose to who you want your ad to be shown (gender, age, demographics, language, behaviour, etc)
Budget & Schedule: Allow you to set up a budget & schedule for your ads.
Bidding optimization: You can now set up your bidding strategy. You can select your frequency cap (e.g. how often your ad must play).
Moving on, you can set up the bid strategy as follows:
LOWEST COST – Meant to maximize your ad results.
BID CAP – You can keep your average result cost at a lower amount than your bid.
Delivery type: This allows you to set up how should your ads be delivered; You can either set this up as Standard (which means your whole budget will be distributed across all creatives in the selected delivery time) or Accelerated (your budget will be spent all at once and you should get maximized results in the quickest time possible).
TikTok ads types
There are multiple types of TikTok ads, though not all of them may be available everywhere in the world.
The main TikTok ad types are:
In-feed ads
Image ads
Video ads
Spark ads (allow you to boost your organic content)
Pangle ads (placed through TikTok's audience network)
Carousel ads
TikTok video ads specs
Ideally, your TikTok video ad must follow these specs:
Aspect ratio: 9:16 or 16:9
Resolution: 540 x 960 px or 640 x 640 px.
File type: mp.4, 3gp, .avi, .mov, or .mpeg.
Duration: 5-60 seconds.
File size: 500 MB maximum.
Brand name: 2-20 characters.
Description: 100 characters, and no emojis allowed.
NOTE: You can also check out this guide for detailed info on all TikTok ads specs.
TikTok ads policies
There are a few strict policies in place which you must consider before launching your TikTok ads.
Ads landing pages
Landing pages shouldn't be expired, or under construction;
Landing pages should be mobile friendly;
Your landing page shouldn't require visitors to download other programs or input their information in order to access the main landing page content.
Ads
Your creatives and landing pages shouldn't show any of the prohibited products or services. (Animals, drugs, gambling, politics, etc.)
eCommerce ads policy
Your eCom ads on TikTok MUST lead to a page that displays correct business information (Company name, address, details), and shows the clear product price in the right currency, as well as the privacy, refund and shipping policies.
Leads ads
If you are running a leads campaign, then you must include a privacy policy in the landing page explaining how the data be collected, shared and handled.
NOTE: For further detailed TikTok ads policies, please visit this guide.
Once you've followed all these steps above, you are now ready to launch your ad, and see it perform!:)
How to track your TikTok campaign

TikTok provides a powerful dashboard, allowing you to track your campaigns.
You can see some basic stats, such as costs, impressions, clicks and conversions.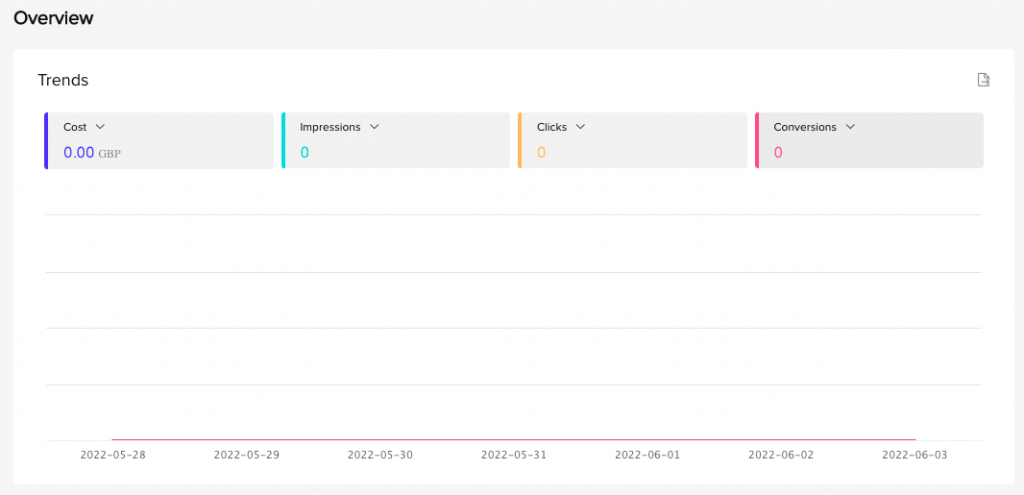 More than that, you can also create custom reports for your campaign, as well as see details about your audience's gender, where your ad was placed & seen the most, as well as the day-parting.
All these powerful stats should give you a good sense of how your campaign is performing and how you can optimize it to maximize your results.
TikTok ads pros and cons
TikTok has taken over the social media digital space in recent years. Some big benefits of TikTok would be displaying quick video content to a mass of young people, allowing a brand to capture one's eye immediately with their products.
On the other hand, though, the "disadvantage" of TikTok stands in the fact that it mainly targets a very young audience (25% of the users are 10-19) and this can make it hard for certain niches and brands to showcase their products.
TikTok ads for eCommerce
If you run an eCommerce business, you must look into TikTok ads. TikTok is a fantastic way to quickly capture the eyes of the public with your product or business.
You can run multiple ad types depending on what suits your audience better, and also partner up with creators who can make content based on your products.
Read more on ads:
Wanna find out more about ads and how they can help your eCommerce business? See our post on Snapchat ads.