In 2020, Pinterest gained 70 million monthly active Pinners (AKA users). And if your product was the pinned, you're basically golden (talk about sales).
What about paid traffic on Pinterest..? In this article we'll go over the not-so-often talked about paid traffic method that might just be the key to your ecommerce store blowing up!
Are Pinterest Ads Worth It in 2021?
Pinterest is for sure a huge source of high-quality traffic.
Different from the Social Media platforms as (Facebook, Instagram or Snapchat), Pinterest gathers a different type of consumers which are there to search for specific products.
The most important part when talking about ads on any social platform is understanding your audience and identifying the right ways of reaching it. And if that's figured out properly, then Pinterest Ads can definitely be worth it!
Pinterest Ads Cost
When it comes to Pinterest, the minimum bid for CPC campaigns is 10 cents. So if you are a small business owner, you may want to start with this very little amount.
What is cool about these Pinterest Ads, is the fact that your ads will appear in the pinner's feed along with the non-sponsored ones. Therefore, the marketing of your company or product is done in a more subtle way which may have a bigger impact on the potential customers.
Pinterest Ads Specs
The same as the other Advertising platforms, Pinterest offers quite a few Ads formats such as Promoted carousels, pins, video pins, and app pins.
Let's have a look at few of them in details:
Pinterest promoted carousels – A collection of 1 to 5 images with separate titles, landing pages and so on. Similar to the Facebook version, this method can be very useful for highlighting the top products of your e-commerce store.
The specs for these would be a maximum of 32MB file, in a .JPEG or .PNG format, and with an aspect ratio of 1:1 or 2:3.
If a video ad is something you are more interested in, then, in this case, Pinterest's specs refer to a maximum of 2GB file, in an MP4, .MOV or .M4V format, with a 1:1 recommended aspect ratio. The length can vary anywhere between 4 seconds to 15 minutes.
Pinterest For E-commerce
If you are running any type of e-commerce business, you should definitely pay attention to Pinterest.
In 2019, Pinterest was holding over 66 million active users in the USA only. This makes it the 5th most popular social network platform in the USA.
With more and more emphasis on the visual aspect, consumers on Pinterest are using their Lens Feature. Pinterest Lens lets you discover ideas inspired by anything you point your Pinterest camera at.
On top of that, Pinterest buyable pins are also another very useful tool which, if thought from a sales funnel journey perspective, takes your lead to the directly buying moment 🙂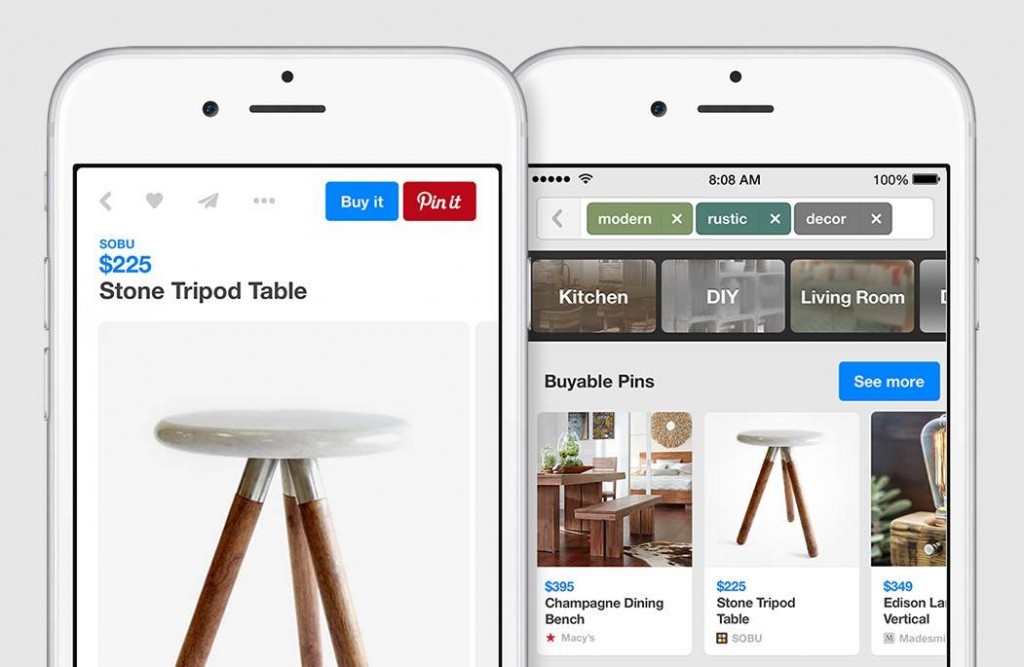 The way Pinterest buyable pins work is that users will be shown a certain image with a small "Buy it" pop-up, and the public will be able to buy that product without even leaving Pinterest.
And actually leading the other Social Media platforms, over 48% of Pinterest users main activity is SHOPPING when using the platform.
In 2019, one-third of the American public actually used Pinterest to follow a brand, which places these consumers in the ideal position for any business – they are open and interested in the brand already.
To make this brief, Pinterest is really something to go for when running an e-commerce business especially. It works pretty easy, no headaches, and can really bring you some valuable results 🙂
Interested in digital ads?
Facebook Ads For E-commerce in 2021