And start getting more accurate data — let's eliminate the fake bots!
We've alllll dealt with Facebook Pixel issues at one time or another. As powerful as it is, it comes with a lot of opportunities to mess it up.
Installing the code in the right place, knowing which standard events to use, knowing where to put the events, accurately tracking your data, the list goes on and on.
Dealing with the Facebook Pixel is a necessary evil if you ever want to run Facebook or Instagram ads for your eCommerce store. It tracks where users visit your pages and, most importantly, where they leave so you can not only improve on low-performing pages but retarget them with paid traffic.
What if I told you there was a way to…
Correctly install the pixel without touching a line of code
Install all the relevant events on each page of your funnel
Filter out fake bot traffic
All in about 15 seconds?
It sounds crazy… But Funnelish is here again to blow all of our minds with a new easy-to-use app!!
The Facebook Pixel App installs your pixel and all relevant events on your whole funnel and all you have to do is supply your pixel ID, that's it!
As mentioned above, it also lazy loads the pixel to prevent firing from bots that visit your page within the first second or so.
Say hello to more accurate Lookalike Audiences!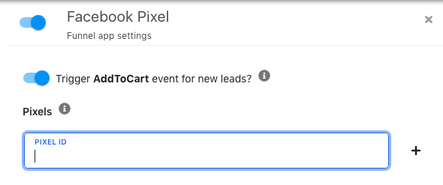 To activate the Facebook Pixel App:
Turn on the Facebook Pixel App inside your Global App settings. Add the pixel ID here if you want to use it across all of your funnels, if not then leave this part blank.
Turn on the Facebook Pixel App inside your Funnel App settings and paste your pixel ID that can be found inside your Events Manager section on Facebook's Business Manager.
Done! If you have the Facebook Pixel Helper Chrome extension you can test your pixel by visiting your funnel!
If you want to track data on more than one pixel you can add up to 4 pixels per funnel by clicking the + button and pasting your other IDs!
Dive Deeper into More Funnelish Knowledge:
For detailed instructions check out our Knowledge Base.
For any questions about this app or any other Funnelish tool click here.
Join our Facebook group for tons of Funnel-ish stuff!
Keep crushing it everyone, let's fire some pixels!
Taylor