A problem that occurs mostly in digital commerce, is abandoned carts. Be it someone rang the door at the wrong time, or the customers see the total price before they make the payment so they give up, however, there are a million reasons why abandoned carts exist.
Statistics
In March 2020, 88.05% of online shopping orders were abandoned, i.e. not converted into a purchase.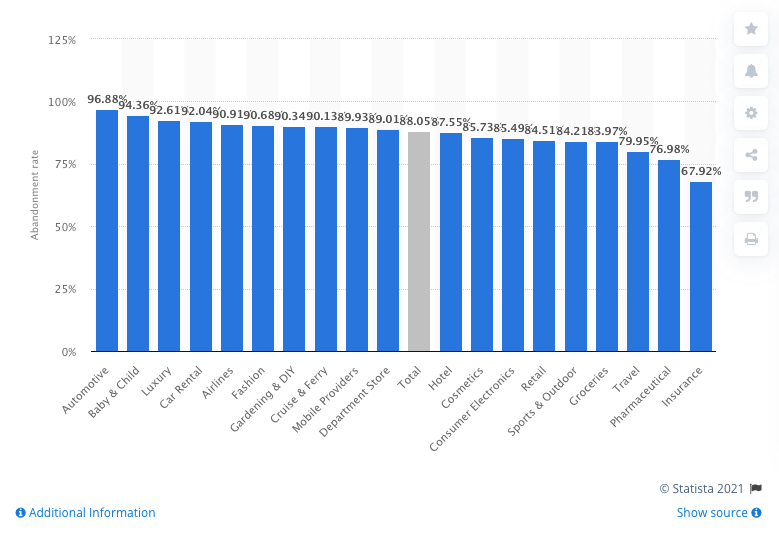 The figure above shows how the Automative industry has had the highest abandonment cart rate, and the insurance and pharmaceutical industries have had the lowest (67.92, and 76.98)
In this article, we will go through 10 effective solutions that you can add to your e-commerce store to reduce the abandoned carts rate and increase your sales.
1. Offer multiple payment methods
It is over-proven how offering multiple payment methods can increase your conversions. In fact, Funnelish users have seen an increase of over 30% in conversions by doing this.
In this digital era, when 53% of sales are made from a mobile phone, it is absolutely important to pay attention to this. Every store should consider not only accepting the traditional Stripe or PayPal payments, but also gateways as Google Pay, Apple Pay, or even buy now pay later services.
2. Take advantage of social proof
However digitalized commerce has become, people still trust people. Adding a series of positive customers review on your check-out page may realistically reduce your abandoned cart rate.
Alongside that, you may also want to use other social proof apps that can help with this, such as Proofy – which will show your customers a pop-up with a message saying "Peter has just bought this 10 seconds ago."
Whichever way you choose, social proof offers customers more trust in making the purchase, and will so increase your conversions while reducing the abandoned carts rate.
3. Reduce page speed & optimize for mobiles
Even a one-second delay on your page loading can make you lose customers. And especially when it comes to the check-out process, you do not want any technical delay or hesitance since that has high chances of making your customers lose patience and the wish to buy.
At the same time, it is important to optimize your checkout and whole online store for mobiles. As mentioned earlier, almost half of the online sales are done through a mobile phone. That is why you must constantly test and track your website's mobile-friendliness.
TIP: You can test to see if your page is mobile-friendly here for FREE!
4. Fewer fields to fill in
Another useful thing to bear in mind when trying to reduce your abandoned cart rate is to decrease the number of fields your customers need to fill in.
Because less is more, and customers time is limited as well, there's a clear negative correlation between the number of form fields present, and conversion rates.
However, if you do need to collect all of that data, then you may want to try auto-fill in apps, which will reduce the "work" your customers have to do at that step.
5. Allow cart saving
As not all sales work the same, there might be customers feeling "rushed" by the statement "low-stock", while there might be people who prefer to take their time before making the purchase.
Allowing cart saving is a good method of establishing trust and give the necessary time for them to decide. In the end, if your product really caught their attention, they will always return.
6. Follow up with an email
Emails are some of the best tools of digital marketing as they are free. Whether you want to use an email sequence for the abandoned carts, or a reminder that they have items saved on their carts, it is always a good idea to get back to your customers.
By email, you can even incentivize by offering a one-time discount, and this way your conversions will go up.
6. Offer free and fast delivery
Another huge impact on the abandoned carts is the delivery rates. Especially when services like Amazon Prime are offering free next day delivery, this is something you really need to pay attention to.
You may want to reasonably calculate the price of your product but including the delivery. In fact, 93% of customers prefer free shipping to any other type of discount.
7. Money-back guarantee.
There are millions of shops around and many scams going on. If you are aiming to establish brand loyalty and brand trust, you may always want to offer your customers a money-back guarantee.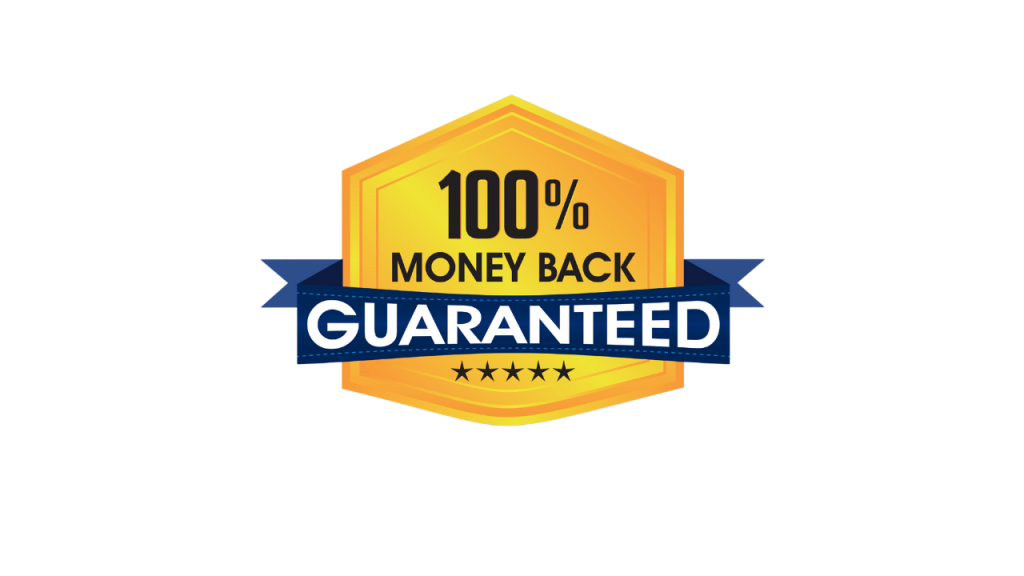 Make sure your money-back guarantee is displayed on the check-out process. This way, not only your abandoned cart rate will decrease, but you will also establish a brand seriously which is much needed.
8. Work on your CTA's
When it comes to the checkout process, you may want to be simple and concise with your CTA's. Using strong actions like "CHECK-OUT", "PAY", may convert a lot better than others.
See how to create unique CTA's that will generate results and improve your conversion rates
CTA's play an important role in the check-out process, as they "tell" your customers exactly what they need to do and what happens next.
9. Allow one-click payments
As time is a valuable resource for everyone, one-click payments will definitely increase your conversions.
Without the need to fill in numerous fields and details, your customers can just get back to your shop and check out with just one click.
Even though this method was as well made popular by Amazon, there is still a lack in the market for this kind of payments. You may want to search for a trustworthy payment provider and offer this to your customers.
10. Chat support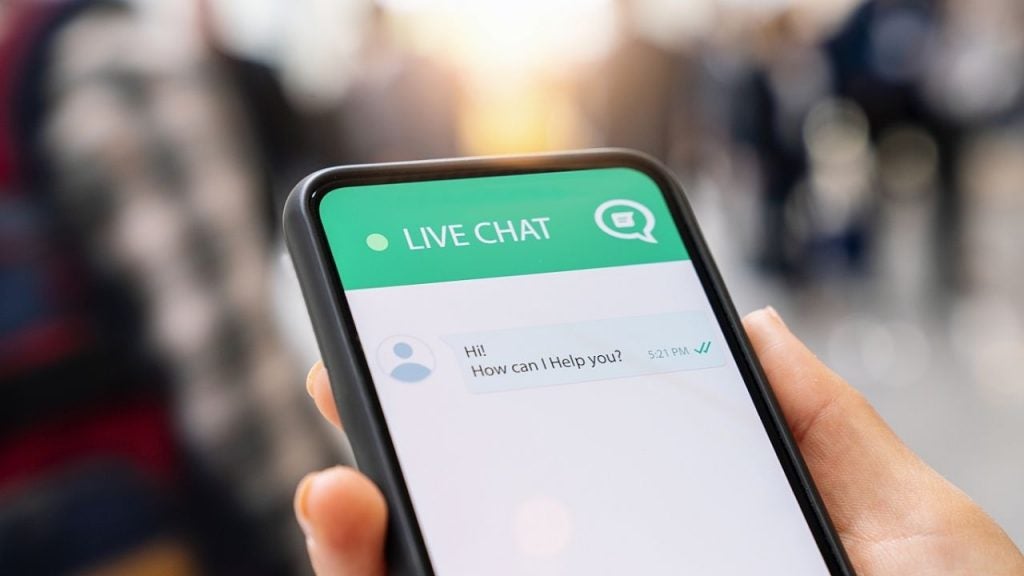 If your customer takes longer than the average time needed to complete the checkout process, you may want to have in place a chatbot sequence that can follow up with them.
Whether they have questions about the product or any other queries, this method may as well contribute to the buying decision in a positive way.